Testimonials about Pets
Kalehua composed music for Makena and me, and I think listening to them has made a difference.  I feel different after listening to my CD and I think it has helped Makena to be calmer, as well.  Also, I was dog sitting another dog, and on the days when I played my CD a lot, he hardly barked.  On the days when I didn't play it, he was back to barking at everything. 
The CDs were very helpful this week, with all of the thunderstorms we were having.  Even though Makena got a little anxious, he was still able to eat during the storm.  Before, he would get so anxious that it was sad to watch him.  I'm so glad that Kalehua composed the music for Makena and me.  I listen to it just about every day, over and over again.
- Gail S
---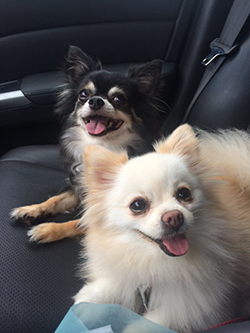 Here is the update of the effect of Kalehua's music CD for Momo and Kuu.  Usually when they are in the car, Momo keeps moving around in the car and never falls asleep except after she had a 4 hour hike.  Kuu usually sits in the front seat but never sleeps in the back seats with bed.  They were sleeping all the way to home after we left your house.
On the same day, I kept playing CD until we went to bed.  When we play the CD, Kuu yawns a lot and Momo was really calm.  But once the CD stoped, they barked as usual.  I am sure that CD works a lot to them to make them calm when we play it.  Thank you very much for composing music for Ku and Momo.
-Shiori T
---
My dog Kino tore the ACL in his right hind leg and sprained his left hind leg.  A 70 lb. dog, he couldn't move himself, and he wouldn't let me carry him.  I couldn't take him to the vet and even if I could, I couldn't afford to pay for surgery. For 3 days,  he pretty much laid in bed, unable to even get up to use the bathroom.  Desperate, I began searching the internet and finally came across Kalehua's website.  Within a few hours of sending a photo of Kino to Kalehua, my dog was able to get up on his own to go outside and use the bathroom.  A few days later he did a toning session for Kino over the phone.  It was then, that I really started to see major progress.  It seemed to have brought back his livelihood that I hadn't seen since he'd been injured --wanting to play and be silly, to chew things, use the bathroom daily, and his other daily rituals.  Mahalo Kalehua for all you have done for my Kino.



-Vicky G
---
Testimonials - Humans
"I had a painful lump near my right shoulder blade. Kalehua remote toned me over the phone and one half hour later, both the lump and pain were gone."

- Rhoda Z., Honolulu, Hawaii




"Kalehua was able to give me explicit detail of events in my life that no one else could have possibly known. Mahalo nui loa. "


- Kekela A., Kailua, Hawaii




"Kalehua has changed my children's lives to the point where others have noticed. Mahalo."


- Mauliola A., Kailua, Hawaii




"I am so very happy to be walking normally again without any pain. Mahalo Kalehua, you have certainly been blessed by the higher power, who is in all of us."


- Barbara M., Portlock, Hawaii




"Kalehua toned me in preparation for back surgery. My doctor was concerned about my bleeding during surgery because I am a bleeder. However, there was no bleeding and the surgery went smoothly. Thank you."


- Phyllis Leimomi S., Kailua, Hawaii




"As an executive in a high stress job, my blood pressure was at a hazardous level. I met Kalehua at a workshop in 2002, bought his music CD and played it while working. Within 10 minutes of playing it, my blood pressure would lower to "normal" levels. He has an amazing gift to share with those who seek his guidance.

"Kalehua also toned over the phone for my elderly uncle who was in a coma after falling and hitting his head. Although the doctors gave him no chance to regain consciousness, happily, the next day, my uncle awoke and was able to share a last visit with one of his best friends. Even if it was only for a short time, it gave us a chance to enjoy a last conversation with him and left us with a treasured memory."


- Eileen A., Honolulu, Hawaii