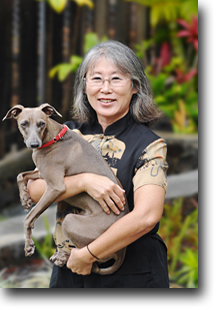 Eileen
I am a 31-year career corporate executive who regularly worked a 15 hour day, every day, for years at FCH Enterprises also known as Zippy's Restaurants, as Senior Vice President and Chief Operating Officer.  I had the opportunity to retire early at age 52 in 2002 and took advantage of this blessing to enter into a new and exciting second career in energy work for humans and animals. 
ENERGY WORK
I learned energetic healing modalities for humans and canines and hold completion certificates from:
·         The Colorado Center for Healing Touch, Inc. (Level I & II)
·         Reiki (Usui System of Natural Healing)
·         Level 1 Integrated Quantum Medicine
·         Animal Healing Touch
·         Animal Gift of Spirit
Using the knowledge from these workshops, I completed 100 sessions on family, friends and volunteers to gain competence in energy work.  This is my 15th year as an energy work practitioner, working on humans and animals.  Healing Touch and Reiki are non-invasive relaxation and energy balancing techniques that supports and assists the individual in self-healing.  The healing energy does not come from us, but rather, through us.  The work can be done hands on, hands off or remotely.
ANIMAL COMMUNICATION
​The energy work led to a desire to know more about how to help animals, especially family pets and I came across the intuitive art of animal communication.  I learned from:
·         Bill Northern, a douser, who introduced me to animal communication in a weekend workshop in Waimanalo in February 2014. 
·         The next leg of the journey found me in Acton California at Wolf Connection, a sanctuary for wolf dog hybrids, where best selling author, speaker, visionary and luminary Lori Spagna, presented a workshop on animal communication in September 2014.  This workshop included a unique opportunity to hike with the wolf pack.  This work so inspired me that with permission of Wolf Connection, I maintain an energetic connection with the pack, with special attention to their beautiful and wise alpha, Maya, as well as the senior members of the pack.
·         In January 2015, I completed a weekend workshop with Carol Gurney in Waialua, learning her heart centered technique for connecting with animals.
What might be some scenarios when animal communication could be used?  Would the animals in your life benefit from your knowing what's going on with them ~ actually having a dialogue and giving and receiving information that helps to resolve issues or enrich their lives, and yours?
·         To know when they are ailing, where the hurt or discomfort is?
·         When unwanted behaviors are displayed, to understand what is going on and make corrections that are appropriate?
·         To discuss with the animal if they are reaching the end of their life and how they would like to transition as they leave their physical body?
·         When your animal gets lost, helping them to be guided back home, should that be their choice, based on own their free?
Communicating with animals is absolutely possible and incredibly beneficial and that's why I chose to study, practice and offer it to you. Our teachers tell us that in ancient times, when humans were much more connected to nature and lived in nature, communing with animals was widely accepted and practiced. With the move into cities and using more of the analytical part of our brain, this ability to speak with animals gradually declined. We are now learning how to access the more intuitive part of the brain and with some education and practice, anyone can access their ability to do this!
As with the energy work, I am now in the process of honing my ability by working with 100 animal clients, to become more and more accurate in translating what our animals are conveying to us. I don't consider myself to be a psychics and I don't do "readings". Instead, it is my honor and responsibility to translate information that our animals choose to share with us.  I'm about half way to the goal of the 100 consultations, and invite anyone who might be interested, to contact me at eileen@animalcommunicatorshawaii.com to learn more about setting up an appointment.  You will be asked to email a photo of your animal (full face if possible), your pet's name, physical address where it lives, the human that it's closest to and the reason for the appointment.